"Every Customer, Every Time. Always!"

We want our clients love our amazing services! There's a reason we've been hosting websites for over 13 years - we offer our clients a service they can depend on. To put our money where our mouth is we offer several guarantees which are linked to credits or refunds in the rare occasions that we fall short. This allows everyone to try our service without risks!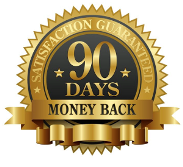 Our 90-Day Money Back Guarantee
We want you to be more than just satisfied with our service, we want you to be ecstatic about our services. However if you are not happy for any reason within your first 90 days as a customer, we'll refund all your hosting fees for our services. That is our serious commitment to customer service!
Please note that those hackers, scammers, and spammers out there that have their accounts canceled for their illicit or illegal activities will not receive this money-back guarantee.
If your site isn't available for at least 99.9% of a calendar month, we will credit your account in line with the following scale:


0 Minutes - 45 Minutes of Downtime (100% - 99.9%) - No Credit

45 Minutes and 3 hours 30 mintes of Downtime (99.9% - 99.5%) - 10% Credit

3 Hours 30 minutes and 7 hours 15 minutes of Downtime (99.5% - 99%) - 15% Credit

7 Hours 15 minutes and 14 hours 30 minutes of Downtime (99% and 98%) - 25% Credit

More than 14 hours 30 minutes of Downtime (less than 98%) - 100% Credit

You will need to open a support ticket to request the credit.
The uptime guarantee excludes any scheduled maintenance, and is for unplanned outages only. Credits are issued to your account which can be applied to future invoices, refunds are not processed. Please see our Terms of Service for full details.